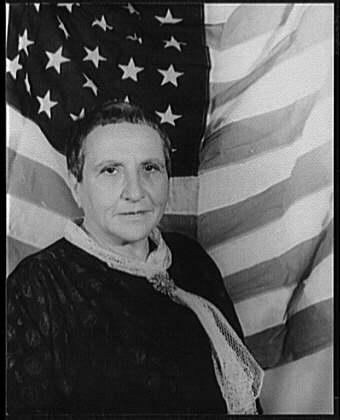 "

No one is ahead of his time, it is only that the particular variety of creating his time is the one that his contemporaries who are also creating their own time refuse to accept...

For a very long time everybody refuses and then almost without a pause almost everybody accepts.

In the history of the refused in the arts and literature the rapidity of the change is always startling."
Composition As Explanation (1926); Selected Writings of Gertrude Stein, ed. by Carl Van Vechten (1946)
American writer Gertrude Stein was a powerful literary force in the early part of the twentieth century.
Gertrude Stein was born in Allegheny, Pennsylvania, on February 3, 1874, the youngest of five children. As a child, she lived in Vienna, Austria, and Paris, France, but grew up mainly in Oakland, and San Francisco, California. Living in these different countries, she learned to speak German, French, and English fluently.

Stein managed to be admitted in 1893 to Radcliffe College, in Massachusetts, where she specialized in psychology and became a favorite of psychologist and philosopher William James (1842–1910). He discovered her great capacity for automatic writing.
In 1903 she went to Paris, France, and took up residence on the Left Bank (a famous neighborhood in Paris) with her brother Leo. In 1907 she met Alice B. Toklas (1877–1967), a wealthy young San Franciscan who became her lifelong companion and secretary, running the household, typing manuscripts, and screening visitors. France became their permanent home.
During Stein's early Paris years she established herself as a champion of the avant-garde painters, or artists that strive for new methods and techniques within their art. With her inherited wealth she supported young artists and knew virtually all of the important painters, including Pablo Picasso, Henri Matisse etc. Her brother Leo became a famous art critic. She was a passionate advocate for the "new" in litery too, her literary friendships grew to include writers as diverse as William Carlos Williams, F. Scott Fitzgerald, Ernest Hemingway etc.
By 1913, Stein's support of cubist painters and her increasingly avant-garde writing caused a split with her brother Leo, who moved to Florence. Her first book, Three Lives, was published in 1909. She followed it with Tender Buttons in 1914.
Among Stein's most influential works are The Making of Americans(1925); How to Write (1931); The Autobiography of Alice B. Toklas(1933), which was a best-seller.
Stein died at the American Hospital at Neuilly on July 27, 1946, of inoperable cancer.
Selected Bibliography

Three Lives (1909)
Tender Buttons (1914)
The Making of Americans (written 1906-1908, published 1925) 
How to Write (1931) 
The Autobiography of Alice B. Toklas (1933) 
Picasso (1938) 
Paris France (1940) 
Ida; a novel (1941) 
Last Operas and Plays (1949) 
The Things as They Are (written as Q.E.D. in 1903, published 1950) 
Patriarchal Poetry (1953)