Q.E.D : Stein's own exile put into writing

As we just saw, Gertrude was a great explorer, she traveled around the world, especially in Europe. Actually, by reading Q.E.D, one can find a recurrent theme : the exile and its consequences. And through this, one can guess Stein's fear of containment, and we will see how this fear gave birth to a desire for exile. Then, we will focus on the countries and towns present in Q.E.D and how they can be associated to characters and to feelings.
Stein had a great fear of confinement. She was afraid she couldn't express herself. She didn't want to be stuck, just like the character of Adele in the Book 1 of Q.E.D. Adele is afraid she can't escape from the place she is in. She says "One hears so much of the immensity of the ocean but that isn't at all the feeling it gives me (...) My quarrel with it is that it is the most confined space in the world. A room just big enough to turn around in is immensely bigger. Being in the ocean is like being placed under a nice clean white inverted saucer. All the boundaries are so clear and hard. There is no escape from the knowledge of the limits of your prison. Doesn't it give you too a sensation of intolerable confinement ?". The situation on the boat is comparable with the end of the book : Adele is "near being in a dead –lock" . This fear of containment appears in the way she sees love, and in her relationship with Helen. Adele is afraid of commitment. She doesn't want to get involved because she knows she could get hurt. There's no issue in love, no issue when Adele is on the ocean.
The containment can affect her thoughts too. When she feels like a prisoner, she can't think properly. That's why she has to go into exile : she is looking for other feelings - in some ways she escapes from other ones - other stories, so she can reflect. Exile can be scary, but in fact for Adele – for Stein ? – it is more stimulating.
Through Q.E.D, Stein associates countries, cities to characters but also to feeling. For instance, Baltimore is the town of Mabel. As a result, Adele feels uncomfortable.
New York is Helen's town. Adele and her lived there together for a while, they had great moments, great conversations. New York is the place where Adele and Helen are closer and happier – in some ways.
Adele goes to Tangiers with her brother : she really feels at home there. One more time : a place, a character, a feeling. It demonstrates the importance of the place but also of the person she is with.
England, London makes her seriously unhappy, she feels lonely in the "old country".
Then, Adele talks about various trips in Italy. It's the place where she feels "on holidays" : she even) speaks about "laziness". But, once more, the importance of the persons she is with is shown : one of her travels in Italy is a real disaster because of Mabel's presence. Italy becomes the country of jealousy and rivalry.

In fact, one can easily guess that when she created Adele, Stein found aspiration mainly in herself and her own experiences. Did Stein use Q.E.D as a way to get over her own feelings ?
In general, did Stein go into exile thanks to her writings ?
An exile through writing ?
In the Autobiography of Alice B. Toklas there is a scene in which Alice describes Gertrude Stein, absorbed in her work, writing and writing, without ever looking around her : as if she was alone in the world. More than going into exile in Europe, she went into exile in writing. She [once] said "I always lived into myself and my writing".
Gertrude Stein was highly interested in psychology – interest aroused by William James during her studies – and this explains the profoundness of Stein's characters. There are not stock characters : she used repetitions in order to build a global pulsation of individuals. Stein's interest for psychology appears in one of her first writing Fernhurst, the author plays with mimesis and ambiguity : the reader gets to know the main characters thanks to their actions and not thanks to what they say.
The "psychological approach to fiction" has always been a controversial one. Some have argued that characters cannot be studied like real people. But in the case of Gertrude Stein, we have to. "Psychology helps us to talk about what the novelist knows; fiction helps us to know what the psychologist is talking about" wrote Bernard Paris in The Uses of Psychology. Treating mimetic characters as real people will "give us a phenomenological grasp of experience in its immediacy" (Paris, the Uses of Psychology), and psychological analysis is the best tool for exploring these characters as real people. That is why, the importance of the psychological aspect in Stein elaboration of characters can not be missed. Stein almost had a mathematical approach when she created her characters : each character has a past which explains his or her present. For instance, in Fernhurst, Miss Wychoff's education – she is from a "Quaker community" had an influence on her behavior – "its fervor of emotion and prayer and its devout practical morality". By studying Stein's characters, we can see how far she went in the elaboration of a "personality" – like everything in a human-being was logical and explainable. Following Paris' theories, Stein's book provides "a deep inside view of his mind, a view which makes us phenomenologically aware of his experience of the world". That is why writing can be seen as a way to escape : Stein put herself into her books. She was definitely "in them". And it explains why the reader can feel her pages after pages. The reader can gain knowledge of reality through the psychological study of the implied author. "Just as other characters act and make choices, this implied author makes judgments of his own in his representation and interpretation of characters. In essence, the implied author thus becomes another character in the fictional reality." (Paris, The Uses of Psychology) We can not deny the autobiographical aspect in all Stein's book. One of the most striking example might be Q.E.D. After a complicated love story with a woman, Stein wrote about the love triangle from which she suffered. More than talking about events that happened to her, she gives theories – philosophy – about life, mainly through Adele's character : "The whole duty of man consists in being reasonable and just... I am reasonable because I know the difference between understanding and not understanding and I am just because I have no opinion about things I don't understand." (Q.E.D, Book 1, Gertrude Stein)
Writing was her work, she didn't do anything else. All her energy was focused on writing : create characters but also elaborate her own style. She went into exile thanks to her intellectual work, focusing on words, their meanings, their sonorities and how she could play with them.
William James underlined her gift for "automatic writing". Getting over things, taking a pen, putting it on a sheet of paper and never stop : Gertrude Stein was one of those writers who could be in full bloom just when they were writing – knowning that they were achieving something great.
Her capacity to go into exile thanks to writing explains her tendency to try a lot of different things. She wrote novels, poems, operas,… And even in this different type of writings, she tried experiences. Published in 1939, The world is round shows that Gertrude Stein was an experimentalist. She was able to cut herself from the world and become free from all the grammar and structural conventions of the English language. About the The world is round, she wrote ("Poetry and Grammar", Lectures in America, 1935) : " When I said. "A rose is a rose is a rose." And then later made that into a ring I made poetry and what did I do? I caressed completely caressed and addressed a noun". Gertrude loved equally literature and words and that is why her style can trouble more than one reader.
"Go into exile" sounds like the main goal of the literary movement named the Lost Generation. It's no wonder if we can find common points between Gertrude Stein and the Lost Generation, as she was known as its "mother".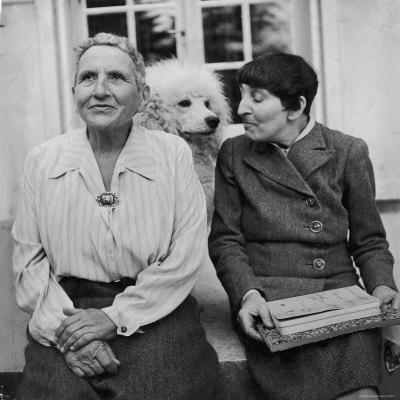 Alice B. Toklas and Gertrude Stein