Gertrude Stein's travels around the world

Getrude Stein Family Portrait
Gertrude Stein traveled a lot during her life. Her travels began at the age of 6 months when her parents decided to leave America in order to go to Europe : first to Vienna, then to Paris. As a result, Gertrude spoke English, French and German fluently. In 1878, the family returned to America and settled in Oakland, a city that she would leave for Baltimore when her parents died.
At the age of 22, she started traveling with her brother Leo. They were very close to each other. They went to Europe : Holland, Germany, London, Paris, Morocco, Spain, Italy. During her travels she met a lot of people, she became friends with the most important figures of that time such as Bernard Berinson or Bertrand Russel. She was very interested in arts, she used to go to Paris every year with Leo to collect paintings by Matisse or Picasso…
Finally, they settled in Paris. Their collection of paintings became bigger and bigger. More than collecting paintings, they hung out with artists and became friends with the bohemian Paris. During one of her "come-backs" to the United States of America, she met Alice B Toklas. They decided to live together with Leo in Paris , (where she wrote the Autobiography of Alice.B. Toklas). A travel in Italy would be the setting of a big fight between Leo and Gertrude. They decided to divide their paintings collection. Even though Leo was not here any more, Gertrude went on different trips, this time with another companion : Alice.
Alice and Gertrude moved together in Paris at 27 rue Fleurus in 1907 : Gertrude was the writer, Alice the source of inspiration. In 1914, they had to leave Paris because of the war between France and Germany. Gertrude and Alice went to the South of France and then they went back to Paris at the end of the war. During World War II, Gertrude was very active in the resistance because she was Jewish. Alice and Gertrude decided to live in the Doubs for while. In the end of the war, they went to Alsace to celebrate France's victory.
The influence of her travels can be demonstrated in her works. Q.E.D is a good example. In this writing, many different places are presented : England, Italy, America,... She had traveled - or even lived - in every one of them. Actually, her travels may have been a real source of inspiration.
But why did she travel so much ? Why did she leave her "motherland" ? Did she feel uncomfortable in America ?
Gertrude Stein's relationship with America
If one compared the period of time that Gertrude Stein spent in Europe and the one she spent in the United States of America, one would be surprised.
About it, she said "America is my country, Paris is my home-town". It would have been simple to think that she left America because she didn't feel comfortable there at all, or because she didn't agree with the country's ideals : but that is not true.
She was patriotic. She said : "I am a beginner. I am an American. A United Stateser". Then, why did she decide to leave America and settle down in Paris ? Exile and Patriotism would actually be two sides of the same behaviour : the first one feeds the second one. She left in order to think about her "country" with more distance. She left to really appreciate the English language. She was in France with America as she would have never been able to be if she had stayed there. It shows Stein's paradoxical personality.
When she talked about the French population and the American one, she always portrayed two totally different kind of people. The French were, according to her, "stock characters" controlled by tradition who never tried anything new. Whereas Americans were always in movement and impossible to encircle. This difference - this gap - between the two populations can be seen in her writings. When she wrote about the French she set in anecdotes whereas for Americans she drew no border or limit and preferred a more dynamic style.
Let us focus on The Making of Americans to see how it works. Gertrude Stein wanted to portray Americans as they were, as they are and as they will be. In that sense, The Making of Americans is one of the typical books in which the author developed her interest in psychology. But isn't it more than that ? Actually, she wrote in the Making of Americans : "There are many that I know and I know it. They are many that I know and they know it. They are all of them themselves and they repeat it and I hear it. Always I listen to it. Slowly I come to understand it. Many years I listened and did not know it. I heard it, I understood it some, I did not know I heard it. They repeat themselves now and I listen to it. Every way that they do it now I hear it. Now each time very slowly I come to understand it. Always it comes very slowly the completed understanding of it, the repeating each one does to tell it the whole history of the being in each one, always now I hear it. Always now slowly I understand it." In that quotation, we can feel Stein's wish to understand the American people. More than "Being a History of a Family's Progress", the Making of Americans deals with American mentalities and history. Why does it interest us ? Because in spite of her settlement in France, Stein kept a strong link with the American civilization and its citizens. She describes us an America which is changing, mutating, but also repeating itself. Paradoxical ? Maybe, and that is why the same paradox can be found in her writing. Approaching the end of The Making of Americans, the reader encounters this passage : "Many men have sometime in their living the important feeling of themselves to themselves inside them, some men have always this feeling inside them, most men have such a feeling more or less in them, perhaps all men and mostly all women have sometime in them a feeling of themselves to themselves inside them; this comes sometimes from a mixture in them of the kind of natures in them, this comes sometimes from the bottom nature of them, this comes sometimes from the natures in them that are mixed up with the bottom natures of them, sometimes in some of them the other nature or natures in them are not mixed with the bottom nature in them, many of such of them have the important feeling of themselves inside them coming from the other natures not from the bottom nature of them". Complicated ? Absurd ? Abstract ? Anyway, the reader is confused. But why ? Because Gertrude Stein put in her writing style the notion that she wanted to make people understand : America is changing, but repeating itself ; the book is changing (we are approaching the end, we began to understand the narrator's intentions) but Stein used a lot of repetitions to underline the paradox.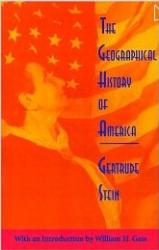 Her "The Geographical History of America" is significant too. While The Making of Americans shows her interest in American population and civilization, "The Geographical History of America" shows her love for the American people but also country and history. For example she wrote : "Does it rain in America oh yes and there is snow. High up and low down there is snow, snow snow really beautiful snow". She wanted people to know the country she loved. Finally, she wanted people to know what their relationship with their country should be like and how should they apprehend it. What is a land ? What makes it as it is ? "And the land. And any land. The land has something to do with the human mind but nothing to do with human nature"
Gertrude Stein loved both America and France, a love that would last until her death ; as she died in an American Hospital in France, Paris - Neuilly.
All our theories about how she felt towards France and America have to be put in perspective. Yes, Stein sought for recognition from the U.S.A, but what were her real motives ?
Remember that, from the start, she began to travel because she was following Leo, her brother. Then, when she settled in Paris, she was with Alice B. Toklas - who would later become her new companion in life and travels.
The truth is, people who were around her were actually more important than the place where she was.