During the inter-war, a group of American authors and artists who were disillusioned with the United States and its cosmopolitan culture after the Great War, decided to expatriate themselves in Europe, and more precisely in Paris. There, they gave birth to a new current in the American literature.
At that time, there was the Great Depression too. It was the most important economic depression of the 20th century which has done collapse the US market on the Black Tuesday 1929. The situation in the United States wasn't so easy and lots of the expatriated artists had lost their belief in human progress.
This term was invented by Gertrude Stein. One summer in Belley, Stein's garage owner said to a young mechanic repairing Stein's Ford "You are all a generation Perdue". When she told it to her friend Ernest Hemingway, she decided to employ the expression in order to qualify the group who rejected American post World War I values. That's how Hemingway became the most emblematic figure of the current and he also popularized it. Then, a lot of authors joined the movement, like Scott Fitzgerald - who was later considered as the leader of the Lost Generation - T.S. Eliot, Waldo Pierce, Alan Seeger, Erich Maria Remarque, Ezra Pound, John Dos Passos, E. Cummings, Archibald MacLeish, Hart Crane, John Steinbeck, Sherwood Anderson, Sylvia Beach, etc...
Ernest and Hadley Hemingway at a cafe with
Lady Duff Twysden and others, Pamplona, Spain, 1925.

The Lost Generation has been influenced by artists like Pablo Picasso or the philosopher Freud regarding Gertrude Stein, and Hemingway took his inspiration in Tolstoy's stories. Hemingway and Fitzgerald have also been influenced by the famous "Algonquin Round Table" a group of three friends poets - Dorothy Parker, Robert Benchley and Robert Sherwood - working for the "Vanity Fair Magazine" who used to have lunch at the Algonquin Hotel in New York City. Then, it was these three authors who brought the bigger influence to the rest of the group and so they created this particular current in the American literature.
This current is characterized by its innovated and unconventional writing that was above and apart from the rigid Victorian styles of the 19th Century. They oriented them toward a new genre, more modern defined by this particular manner to write in order to describe something or someone and in fact give details about the author and even a description of him or her. Its use of words for their associations and sounds rather than their meanings is another trait of the authors of the Lost Generation. They also criticized the American culture in creative fictional stories which had the themes of self-exile, indulgence – care-free living – and spiritual alienation. In that, the authors can give insight to the lifestyles that people would lead during the 1920s in America. Many passages in Stein's book describe and reiterate autobiographical episodes. Besides, she tried a new style consisting in a juxtaposing mundane description – of weather conditions and food, for example – bits of conversation, and random reflections.
But the Lost Generation has also influenced several artists. There are a few examples : Ashbury, Palmer, William H. Gass, Giannina Braschi, Paul Bowles, Richard Wright and Paul Cézanne, a famous post-impressionist painter. The works of Gertrude Stein and her friends have had a special clout on the Language Poets, a great avant-gardism group of poetry during the 1960s and 1970s, who wrote postmodernism poems too.
Today, the Lost Generation is considered like a radical change and also a new vision in the American literature. This term is employed in different ways, it can characterize the whole anonymous horde of young Americans abroad, a certain revival in a society or it can simply, be used for describing persons who are on the margins of society.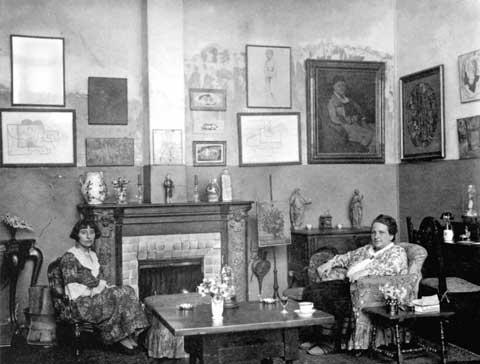 Picture of "27 rue Fleurus"